The avenue is over 3 km long, runs east-west, parallels the Mukhavets river at a distance of 300 - 600 m off the river. Its widest stretch between the shopping center and the Intourist Hotel is over 100 m broad. It looks like a boulevard having 2 parallel side lanes separated from the main traffic artery by 2 wide strips lined with tall trees.


The previous names:
Russian period
Shosseynaya street (Highway street). It was a stretch of Warsaw - Moscow Highway.
Polish period
ulica Jagiellonska. The street commemorated the royal dynasty of the Jagiellonians in Poland.
Soviet period
Moskovskaya street (Moscow street). The street was given the name of the place to which it leads.
Belarusian period
The part of the street up to Kobrin Bridge was renamed Masherov Avenue to commemorate the leader of Byelorussian communists Pyotr M. Masherov who died in a car accident in the 1970s.
The remaining part retained its name Moskovskaya Street.
The main attractions in the street
The head post office
It was originally constructed in the mid 19th century before the advent of railways. Here Moscow Highway, a principal road of the Russian Empire started, that was laid in 1848. Originally, it comprised a stage house, a tavern, later a post station where horses were posted in readiness for use on a journey for post service and passengers who used to travel in stagecoaches, or by post-chaise or relay. There was a network of "yams", or relay stations. They were located every 20 to 30 miles. The word yam came from the Mongolian word denoting a route messenger system. The word "relay" comes from an old French word meaning to replace tired animals. Here travelers could overnight in the stage house and take meals in an inn till the late 19th century.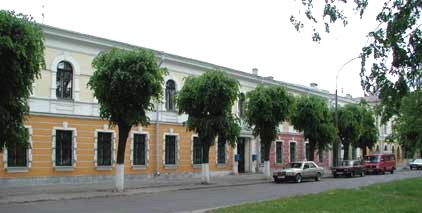 After the renovation the old head post office looks attractive.
shopping center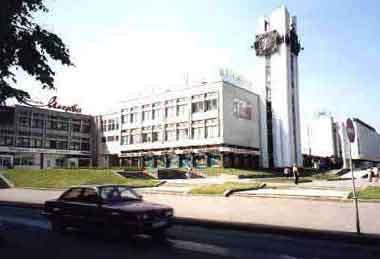 Today the shopping center,that was constructed in the 1970s, comprises a lot of large and small shops. The tower with the clock is a good landmark on this traffic artery.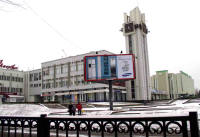 On January 01,2008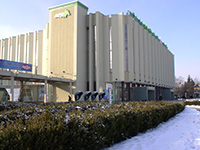 The Department Store in winter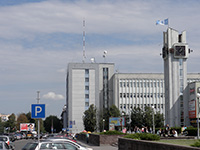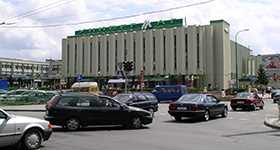 .. and in summer
That Avenue is the best route for traditional
bikers' parades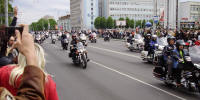 Intourist
Hotel
It was constructed in the 1970s to accommodate numerous foreign tourists coming to Brest.

The view during the renovation of the facade in 2004.

The view in winter after the renovation

and in summer

The fountain in front of the hotel reminds of the days of the Soviet Union, as a big family of nations.

The view from the avenue. St.Simon's Cathedral is seen behind the Hotel.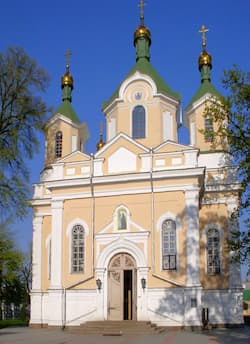 St.Simon's Orthodox cathedral
The Russian Orthodox cathedral was constructed in 1865. It was dedicated to St. Simon.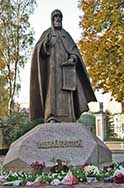 The monument to the Belarusian martyr Afanasy Brestsky was unveiled in October 2005 at the corner of Masherov Avenue and
Sovietskikh Pogranichnikov Street
, between the Intourist Hotel and St. Simon's Orthodox cathedral.
More in the project
Old and New Brest